Details of the training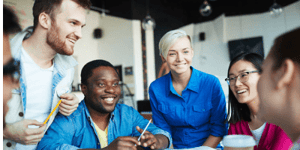 Develop your cross-cultural skills
Individual
E-learning
Duration : 7 hours
Contact us
Contact us for a quote
E-learning training, accessible to people with disabilities
Access time after registration: 1 month
Theoretical and practical exercises, with video and audio material, texts, games.
Evaluation: Tests and quizzes throughout the training
Intra and inter-company training
General Objective of the Training:
How to better work together, to better cooperate, to better communicate, to better listen to and understand each other. To develop management and communication skills, in a cross-cultural context.
PROGRAM
General introduction to intercultural skills.

To know oneself better and to become aware of one's own culture.

To identify stereotypes.

To know the 8 indicators of cultural orientation.

To work on one's own cross-cultural communication.

To manage cross-cultural conflict sources and the tools to overcome them

To manage an intercultural team
TARGET AUDIENCE
Anyone who evolves in a multicultural professional environment.
PREREQUISITE
No degree or certificate required.
B1 level in French or English required.